The Cairns Game Fishing Club occupies its own deck space within the Cock & Bull Tavern, and is located only 2 minutes drive from the Cairns Marina. We welcome your enquiries and look forward to showing you some warm hospitality when you visit us!

Clubhouse Location
Cairns City Centre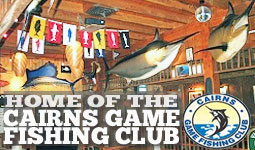 Cock n Bull Tavern
6 Grove St, Cairns, Qld, 4870
Tel: +61 7 4031 2862
Committee Contacts
President: Graham Johnston
Vice President: Alan Usher
Treasurer: Stephanie Johnston
Weighmasters:
Bill Spooner (Tel: 07 4053 1219)
Graham Johnston (Tel: 0412 933 226)

Send us a message
The Cairns Game Fishing Club continues to carry on its proud tradition of welcoming members and visitors from around Australia and around the world for convivial hospitality in a relaxed, tropical atmosphere.